A Guide to ensuring you have the Traditional Mass at your funeral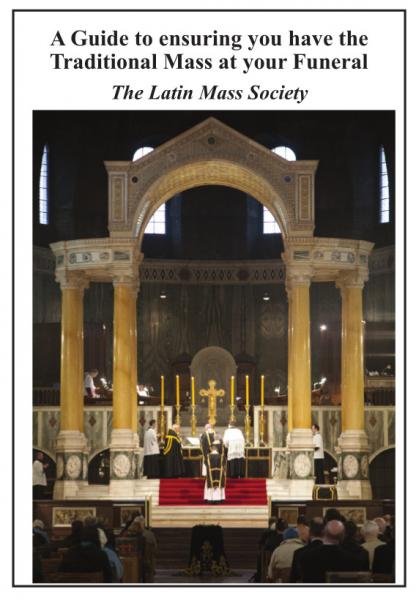 This booklet explains about the right of Catholics to request a Funeral Mass according to the Traditional Catholic liturgy: the Extraordinary Form' or Vetus Ordo, the Traditional Latin Mass.
If you are considering this and are not a member of the Latin Mass Society, joining us will not only show your support for our work but will also make it easier for us to give whatever help is necessary to those organising your funeral. Not only will we already know about you, and (if you tell us), about your detailed wishes, but given our finite resources we naturally give priority to deceased members.
You can join the Latin Mass Society through our website, by phone, or by post.
---
The Church exhorts us, as do many of the great spiritual writers, regularly to think of our last end, and frequently to meditate on the Four Last Things: Death, Judgement, Heaven and Hell.
It's easy in one's earlier years to put off such thoughts. Even if we do devote some thought to such matters, there is a strong sense of distance between us and the ends of our lives.
As one gets older, however, thoughts of one's own mortality begin to preoccupy us more and more. For Catholics attached to the Traditional Latin Mass, one aspect of this that gives many cause for worry is the question: 'What sort of funeral will I end up with?'. 'End up with' is all too frequently what happens. One might have been a weekly attendee at the Extraordinary Form in life, but in death, because of ignorance on the part of family and friends, or lack of planning by the deceased, a traditional Catholic often ends up with a funeral that has been turned away from the Church's intention of praying for the soul of the deceased to get to Heaven, into a 'celebration' of their life, complete with white vestments, inappropriate music, and no one, but no one, praying for the repose of his/her soul. How many souls are kept in Purgatory because there is no one to pray for them, or to have Masses offered for them? Well, there is a solution, and it can be summed up as follows: The Latin Mass Society.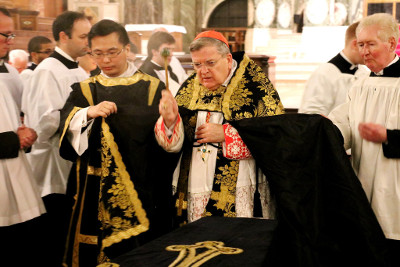 If you are a member of the LMS, apart from the important fact of supporting our on-going work of campaigning for the Traditional Mass and much else besides (see this blog post by our Chairman for more on that subject and here and here), when it comes to your death, we are here to help, if we possibly can.
For a start, every year, we have a Pontifical High Mass of Requiem offered in Westminster Cathedral for the repose of the souls of all our deceased members. So if you were an LMS member at the time of your death, you will have Masses offered for your soul in Purgatory every year, for ever. Secondly, if we are able to do so, we will try to ensure that you receive a fitting funeral. However, this very much depends upon you, our members, making appropriate arrangements for your funeral in advance.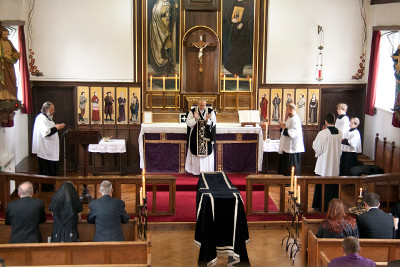 But what are 'appropriate arrangements'? What exactly needs to be arranged? For many Catholics, that has been far from clear...until now. The LMS has produced: 'A Guide to ensuring you have the Traditional Mass at your Funeral'. It contains advice on the best ways to ensure that you get precisely that: what you need to do now, whom you need to speak to, and what is necessary. In compiling this invaluable booklet, we have taken legal advice on the best approach for our members to follow. The booklet also details the various liturgical options within the Traditional Roman Rite for your Requiem. It includes notes on the authoratative teaching of the Church, and on what is permitted (and NOT permitted) in the Traditional Rite, as well as much other advice.