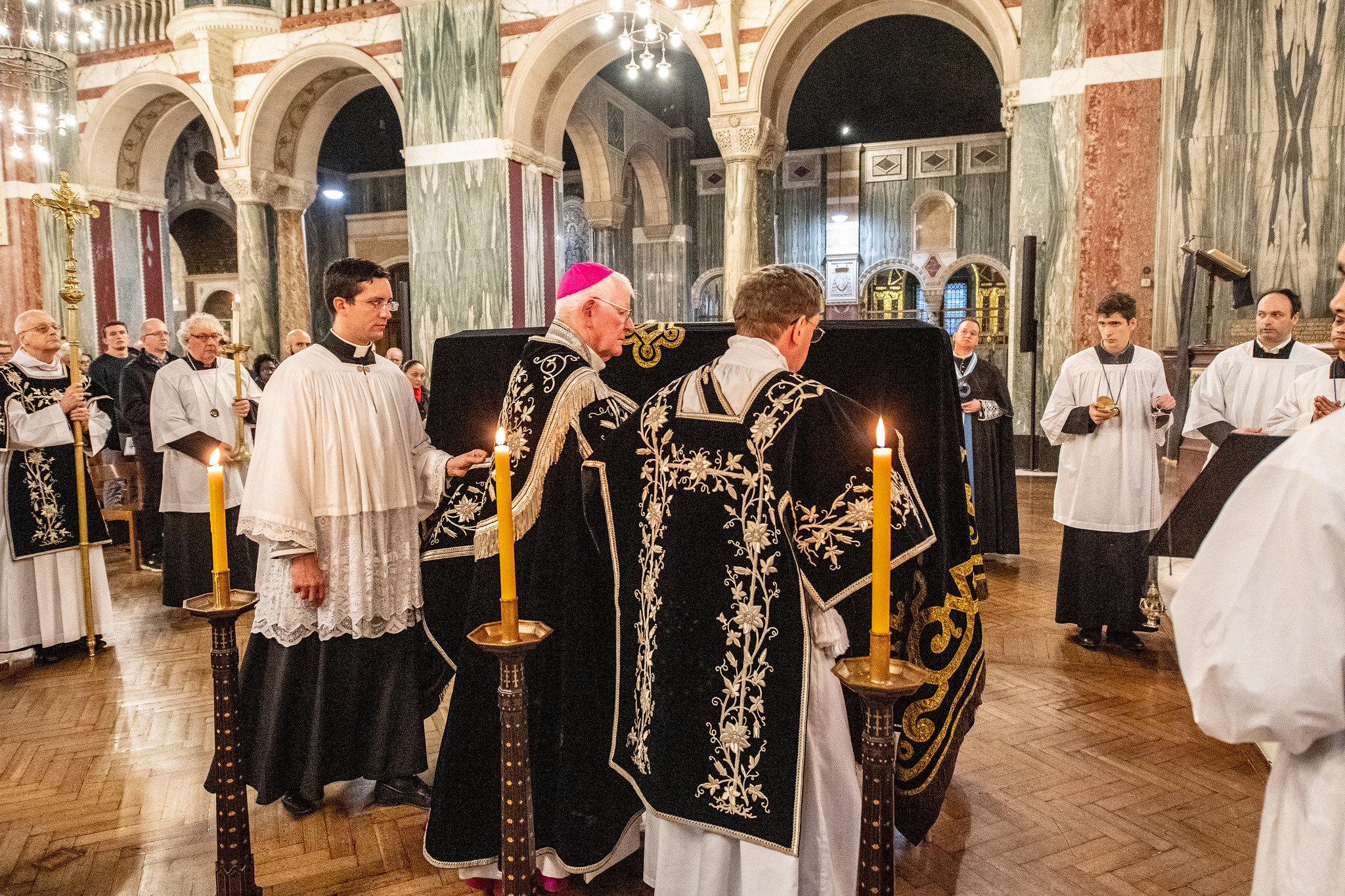 Annual Requiem Mass
Each year the LMS organises a Requiem Mass for the souls of departed members and benefactors. This takes place in Westminster Cathedral on a Saturday at the beginning of November, to coincide with All Souls Day. It is a Pontifical High Mass at the High Altar followed by Absolutions at the catafalque.
The LMS also offers a booklet called A Guide to ensuring you have a Traditional High Mass at your funeral so that family members of the deceased may have access to the necessary information and resources that fulfill the last wishes of their loved ones wishing to have a Traditional Rite funeral.
Photo: Bishop Michael Campbell OSA, Westminster Cathedral 2019.
---
High Mass in Westminster Cathedral
A High Mass is celebrated in Westminster Cathedral on the day of the LMS's Annual General Meeting, held in the summer months. The meeting is a requirement of the Society being a registered charity and provides members with the opportunity to listen to a talk from a guest speaker.
Left Photo: Bishop Michael Campbell presiding at the 2019 AGM Mass
Right Photo: Bishop Michael Campbell speaking at the 2019 AGM
---
Mass of Reparation for Abortion, Bedford
By kind invitation of the Shrine of Our Lady of Guadalupe in Bedford, the LMS co-organises a High Mass, usually in late November, which is offered in reparation for all abortion carried out.
Our Lady of Guadalupe is the patron saint of the pro-life cause because the image of Our Lady that appeared inside the cloak of Juan Diego shows her pregnant with the Holy Infant Jesus. Her pregnancy can be identified by the black ribbon she had fastened around her waist, traditionally worn by pregnant women in Mexico during the 1500's. Many miracles have been attributed to this cloak. Source
Photo: Mass of Reparation 2018