The Latin Mass Society's annual pilgrimage to Holywell takes place on Sunday, 1st July 2018.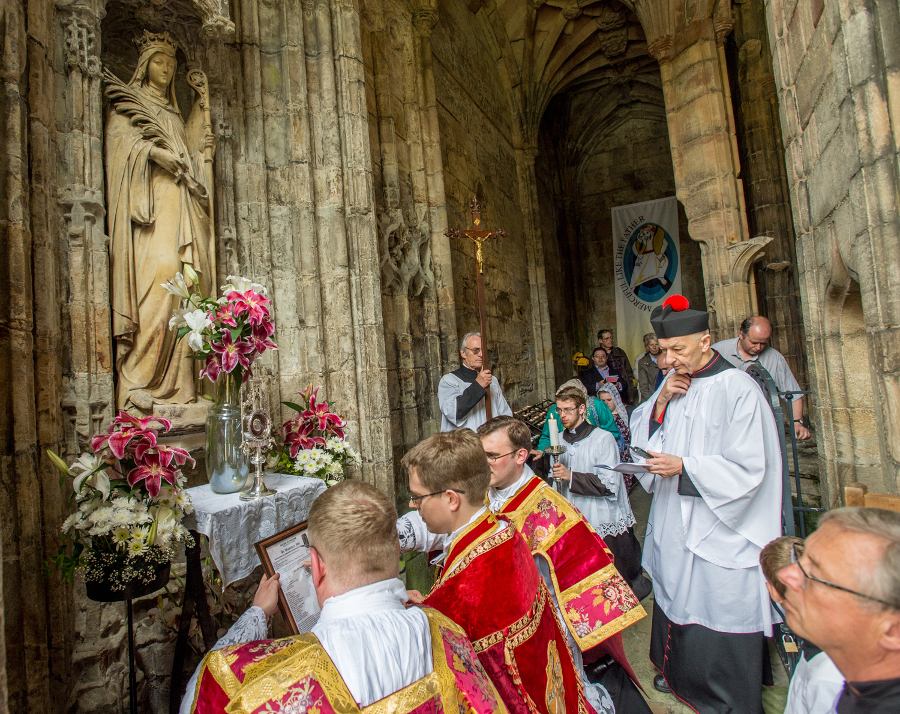 High Mass (of the Most Precious Blood) will be celebrated in the parish church at 2.30pm by Priests of the ICKSP, followed by a Rosary procession down to the Well whereupon the relic of St Winefride is presented for veneration.
The proper will be in Gregorian Chant, provided by the Sisters Adorers of the Royal Heart of Jesus.
Very little is known about St Winefride except that she lived in the 6th or 7th century near Treffynon (Holywell) in Wales. Various miraculous stories are told about her, and her cult has been widespread since the Middle Ages. The main centres of devotion were Shrewsbury, where her remains were enshrined in 1138, and the well at Holywell that sprang up where, according to one version of her life, she was beheaded and then restored to life by her uncle, St Beuno. The well has remained a place of healing and pilgrimage through the Reformation to the present day.
Pilgrims make the journey from far and wide, to gain many graces and spiritual nourishment at the Shrine of St Winefride, why not join them this year?

A poster advertising the pilgrimage may be downloaded HERE.

Photo: Veneration of the relic at St Winefride's Well. Credit: John Aron.
Well Street




Holywell

,

CH8 7PN




United Kingdom