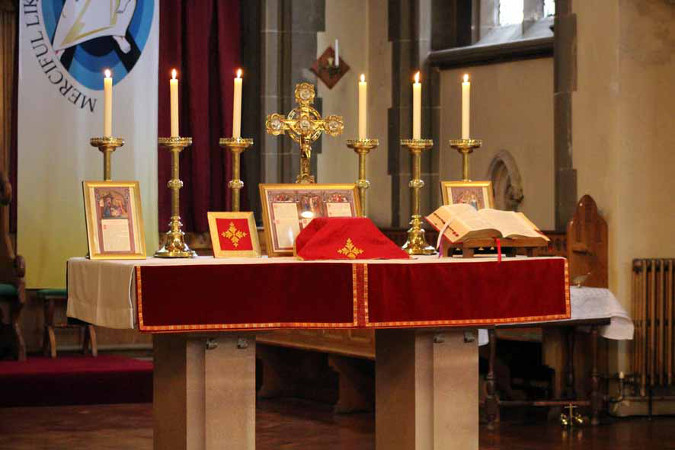 The Latin Mass Society's Annual Pilgrimage to the Cathedral Church of Our Lady of Sorrows, Wrexham, in honour of St Richard Gwyn (a co-patron of the LMS) takes place on Saturday 14th October 2017.

Mass at 11.00am. followed by veneration of the relic of St Richard Gwyn.

The LMS is very grateful to the Institute of Christ the King Sovereign Priest who will be with us on the day.

A poster advertising the Pilgrimage can be downloaded HERE.

St Richard Gwyn is one of the Forty Martyrs of England and Wales. Also called Richard White, he was born in Montgomeryshire, Wales, in 1547, and stud­ied at Cambridge University. Converted from Protestantism, he returned to Wales in 1562, married, had six children, and opened a school. Arrested in 1579, he spent four years in prison before his execution by being hanged, drawn, and quartered at Wrexham on 15th October, for being a Catholic. While jailed, he com­posed many religious poems in Welsh. He is considered the protomartyr of Wales and was included among the canonized martyrs of England and Wales by Pope Paul VI in 1970.

Photo: The altar in Wrexham Cathedral.
Credit: Kevin Jones.
Wrexham Cathedral




Regent Street




Wrexham

,

LL11 1RB




United Kingdom