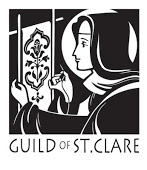 The Guild of St Clare is launching a brand-new and very exciting initiative: the chance to study for the Certificate course at the Royal School of Needlework (RSN) at a subsidised rate of approximately 50%. The RSN Certificate Course is intended as a part-time course for keen amateurs and can readily be fitted around existing work and family commitments. It enables students to develop solid skills and become part of a long tradition of maintaining the highest standards in hand embroidery. More information about the course can be seen on the RSN website here.
Part of the mission of the Guild of St Clare is the teaching of skills essential to our work. We hope that in sponsoring places on the RSN Certificate Course we will be helping enthusiasts to gain the solid skills needed to repair, maintain, and create beautiful vestments and altar furnishings. Applicants should be able to demonstrate an enthusiasm for and commitment to hand embroidery and the restoration and creation of vestments. Further details about the sponsorship and how to apply can be found here.

The Guild of St Clare was founded in Oxford in 2009. Its purpose is to repair and make the liturgical vestments necessary for the celebration of the traditional liturgy of the Catholic Church, to pass on the skills necessary for this, and to promote domestic sewing.
The Guild today runs two 'Sewing Retreats' each year, where liturgical sewing is combined with spiritual talks and liturgy, one in the spring and one in the autumn.

The Guild is affiliated with the Latin Mass Society and its spiritual patron is St Clare of Assisi, who, like many female religious over the centuries, made liturgical vestments.

The Guild blog can be seen here.