1965-2015 - Our 50th Anniversary Year
2015 saw the 50th anniversary of the founding of the Latin Mass Society. To celebrate this we were able to execute a full programme of annual events, many of which attracted record attendance. This included pilgrimages to York, Holywell, Walsingham, Glastonbury, Wrexham Cathedral, Brinkburn Priory, Caversham, Willesden, Cardigan and Aylesford. The Society, one again, sponsored fifteen young people who took part in the Paris to Chartres pilgrimage. As a means of promoting the Society during the Jubilee Year, our Mass of Ages magazine was distributed free of charge to more than ninety cathedrals and churches around the country, more than doubling circulation.
The Society celebrated the Triduum Sacrum at St Mary Moorfields in London which, for the first time, included Tenebrae for all three days. Our annual Day of Recollection was held in St Edmund's College, Ware. At the instigation of our Local Representatives and members, a number of regular Sunday and weekday Masses were started. A Requiem Mass for Michael Davies preceded the Michael Davies Memorial Lecture, which was delivered by Professor Roberto de Mattei. Professor de Mattei was also the guest speaker at the Annual General Meeting, which was followed by High Mass in Westminster Cathedral, celebrated by The Rt Rev. Mark Jabalé O.S.B., Emeritus Bishop of Menevia. By kind permission of the Romney Marsh Historic Churches Trust, a Missa Cantata was celebrated in the church of St Augustine, in Snave, Kent, the first to be celebrated there in almost 500 years.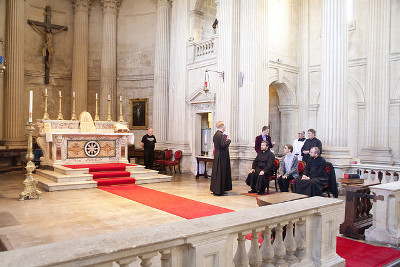 Our residential Training Conference for priests and altar servers was held in Prior Park College, Bath, to which priests came from as far away as St Lucia, Poland and Ireland. A further training day for servers was held in London. The residential Latin Course was, once again, held in Pantasaph, and the Society maintained its commitment to promoting Gregorian Chant and supporting traditional family life by continued sponsorship of The Gregorian Chant Network and The St Catherine's Family Trust.
The highlight of the year was the visit in November, at the invitation of the Society, of HE Raymond Cardinal Burke. Cardinal Burke conferred the Sacrament of Confirmation in the Traditional Rite at St James's, Spanish Place and also celebrated our Annual Requiem Mass in Westminster Cathedral.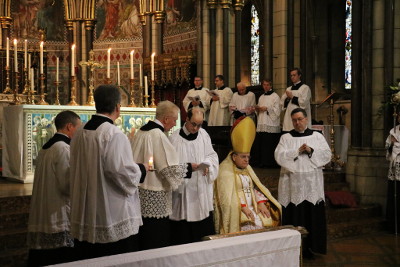 After many years in the making, we published our Ordinary Prayers of the Traditional Latin Mass booklet. A copy was sent to each member, copies have been donated to churches where the Traditional Mass is celebrated and hundreds of copies have been purchased by people from around the world.
To mark our 50th anniversary, we launched the Anniversary Supporters' Appeal, a scheme to ensure the continued expansion of the Society's work. To provide a predictable income for the Society for our new and existing projects, we called, and continue to call, on our supporters to consider making regular donations of a few pounds a month.
To make a regular donation to the society - click here.
Looking back over those 50 years, so much has been achieved by so many who have gone before us. Looking forward to the next 50 years, it is clear that we cannot rest on our laurels as so much still needs to be done. Many areas of the country still lack the Traditional Latin Mass, and a great deal of misunderstanding and prejudice exists against those who hold the Traditional Latin Mass and orthodox Catholic teaching and practise so dear. For these things to change, we need your help. Join the Latin Mass Society today so that, in the words of Pope Benedict XVI, "the Church of Christ offers a worthy ritual to the Divine Majesty, 'to the praise and glory of His name,' and 'to the benefit of all His Holy Church.'"