Mass of Ages - Autumn 2020 Edition
Mass of Ages is the quarterly magazine of the Latin Mass Society. It contains reports on our many activities across the country, national and international news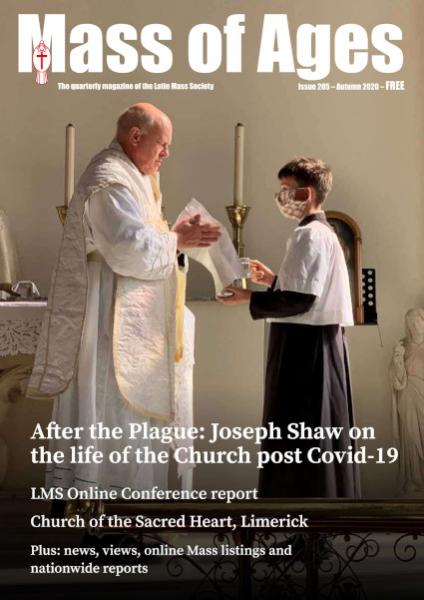 of Traditional Catholic events, feature articles on different aspects of traditional Faith and culture, and opinions and views on developments in the Catholic Church.

In this issue: • Joseph Shaw on the life of the Church post Covid-19 • Matthew Schellhorn on the extraordinary benefits of singing and its essential place at the centre of liturgical life • Tom Quinn visits a remarkable monument to the Catholic Faith: Tresham's Garden Lodge • Charles A. Coulombe on the coming feasts of the liturgical year
"The disruption to the sacramental life of the Church caused by the Coronavirus has had and will continue to have serious consequences for the Church. Donations made at Masses have all but disappeared for three months. As I write, bishops are slowing the return to Mass attendance, to facilitate 'social distancing', and at the time of writing the Sunday obligation remains suspended.
I fear that they may not need to worry: there will be no bounce back to old levels of Mass attendance. In order to explain why, I need to take a little step back, to what once counted as normality." writes Joseph Shaw.
"A worryingly large proportion of our pre-pestilential congregations were composed of people with a very tenuous grip on the Faith. As well as often being ignorant of, or rejecting, the teachings of the Church, their rates of divorce and of cohabitation outside marriage, their use of contraception and their openness to life, and their views on many of the issues of the day, were indistinguishable from those of the wider population. Other members of those congregations were simply fed up, for a variety of reasons: with the liturgy, with the parish priest, with clerical abuse, or whatever it might be. Identifying as Catholic for all these individuals has been for them an historical accident: it is about what their parents and grandparents were committed to, rather than about what they are committed to, or perhaps what they were committed to themselves in the past."
Matthew Schellhorn writes: "During the Coronavirus pandemic, I was asked by the Catholic Herald to research the impact of lockdown on professional musicians working in the field of sacred music. The range of responses included a number of heart-breaking stories, including singers experiencing poor communication with churches and clergy and entire choirs being put out of work.
Fortunately, some choirs and organists had the opportunity of continuing to supply music to their churches, either recording or live-streaming liturgical music from which congregations benefitted greatly: notably, Westminster Cathedral and other churches have streamed Masses online showing at least organists doing their work in situ. Yet one choir director was in touch to share that, in the face of having offered creative solutions, her long-term contract had been terminated. All responses shared an apprehension for the future. As one musician said: 'I wonder what we are coming back to'."
"The Triangular Lodge at Rushton in Northamptonshire is well known." Writes Tom Quinn.  "This extraordinary structure was built in the 1590s by Sir Thomas Tresham as a physical symbol of his Catholic Faith, a faith at that time under attack. Despite being knighted by Elizabeth I in 1575, Tresham, like many Catholics at the time, was continually fined for his recusancy and imprisoned for many years. But the Triangular Lodge is a statement to the world that not for anything would he give up his Faith.
Wherever you look the number three is locked into the design of the Triangular Lodge – as well as being three sided (hence triangular) the building has trefoil windows and three floors; each wall is 33ft long and surmounted by three gargoyles; and there is a delightful pun that links the number three to family intimacy: the inscription above the door reads, 'Tres testimonium dant' meaning 'the number three bears witness', a quotation from the Gospel of St John, but also a reference that only the family would have understood – Sir Thomas Tresham was always referred to as, 'My Good Tres' in letters written by his wife." Read more about this fascinating monument to the Catholic Faith.
Charles A. Coulombe looks at forthcoming festivals in the liturgical year: "As the heat of summer at last passes away in temperate climes (in Southern California where I lived most of my life, it can linger throughout September and into October), the thoughtful harvest-time of autumn takes its place. As the season winds on the leaves turn from green to red, gold, and orange – in some places becoming as bright and beautiful as ever do the flowers at warmer times. Depending on the locale, different grains and fruits are harvested in their time, and the hunting season begins. The weather turns colder, the nights lengthen, and the earth prepares for its long winter sleep. Folklore and legend add a touch of mystery to the air. It would be odd indeed if the feasts of the liturgical year were not affected nor had their effect on this magical time. And, indeed, so it pans out, year after year."

Also in this edition:
The Chairman on the importance of rights and obligations
A personal memory of a great priest - Mgr Canon Frederick A. Miles, ProtAp
My First Mass – Neil Addision exclaims: 'Oh No! I've become a Trad'
Fr Timothy Finigan reviews a new publication by LMS Chairman, Joseph Shaw
The final mile!: How you can help the Traditional Catholic community at Priory Court
Squinting the Mass: Was streaming a mistake or did it save the day, asks Jeremy Boot
Monsignor Dr Antony Francis Maximilian Conlon RIP, An Obituary by Anthony Delarue
David Forster reviews a new book by Peter Kwasniewski
Macklin Street reports on the LMS's recent online Conference
Our regular columnists:
• Architecture: Paul Waddington describes a spectacular church recently bought by the Institute of Christ the King Sovereign
• The pandemic and Communion in the hand: Alberto Carosa on the difficulties faced by Traditional Catholics
• Lone Veiler on being locked out of church
• In a welcome return of Art and Devotion, Dr Caroline Farey studies A Shrine of the Virgin Mother of God
• Mary O'Regan explains why she only wears skirts and dresses
• Wine: Sebastian Morello on the pleasures of Coteaux Bourguignon
During this time when churches are open but with restrictions, it is not possible for us to make copies of Mass of Ages available from cathedrals and churches. If you would like a hard copy of the magazine we would be very happy to send one from the LMS Office.  However, due to the high cost of postage, we do ask that you cover the cost of postage. See HERE for details. Alternatively, a digital copy of the magazine can be read on ISSU HERE. A pdf of the entire magazine may be downloaded HERE.
Are you on our E-Newsletter mailing list? To keep up to date with our news, subscribe HERE
To help the Latin Mass Society continue its work of promoting and developing Traditional life and practice in the Church, please consider signing up to our Anniversary Supporters' Appeal.