The Spire – the quarterly newsletter published by the Institute of Christ the King Sovereign Priest in England.

Current and past copies are available to download in PDF.
About the ICKSP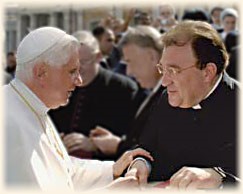 The Institute of Christ the King Sovereign Priest (ICKSP) is a Society of Apostolic Life of Pontifical Right whose goal is the honour of God and the sanctification of priests in the service of the Church and souls. Its specific aim is missionary: to spread the reign of our Lord Jesus Christ in all spheres of human life. Their work is carried out under the patronage of the Immaculate Conception, to Whom the Institute is consecrated.

The Institute was founded in 1990 by Monsignor Gilles Wach and Father Philippe Mora in Gabon, Africa, where they still have missions. Today, the motherhouse and international seminary is located in Gricigliano, in the Archdiocese of Florence, Italy.
The ICKSP has two mission parishes in the United Kingdom. Both are shrines dedicated to Eucharistic Adoration. Both provide daily Mass in the Traditional Rite.
SS Peter & Paul and Philomena, New Brighton (colloqually known as "the Dome of Home"), in the Diocese of Shrewsbury. The ICKSP was installed at the Dome of Home in March 2012.
St Walburge, Preston, in the Diocese of Lancaster. The ICKSP was installed at St Walburge's in September 2014.
From September 2017, the Institute will assume care of the shrine of English Martyrs in Preston.
 
St Benedict's School, Preston
At St Walburge's in Preston, in the last century, there was a thriving school in the convent and library buildings just next to the shrine. As part of their apostolate in Preston, the Institute are going to give new life to that school and bring back the sound of children's voices to its walls.
St Benedict's School will provide a solid, traditional education and Catholic formation for its pupils, under the spiritual care of the Canons of the Institute of Christ the King Sovereign Priest. We know that many families are seeking just such a formation for their children.
The School published a Newsletter, Current and past copies are available to download in PDF.

October 2017