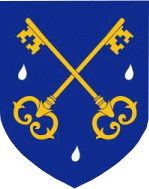 Dowry - The quarterly magazine published by the FSSP in England
Dowry is the quarterly periodical of Catholic Tradition published by the Priestly Fraternity of St. Peter in England and in Warrington. Current and past copies are available to download in PDF:
2016
No. 32 - Winter 2016 
No. 31 - Autumn 2016
No. 30 - Summer 2016
No. 29 - Spring 2016
2015
No. 28 - Winter 2015
No. 27 - Autumn 2015
No. 26 - Summer 2015
No. 25 - Spring 2015
---
About the FSSP
FSSP ENGLAND is the registered charity for the Priestly Fraternity of St Peter (FSSP) in England & Wales. The FSSP is a Roman Catholic priestly community with permission from the Holy See to use constantly the Extraordinary Form of the Roman liturgy. Founded in 1988 by 17 priests and 1 deacon, the FSSP now numbers more than 370 priests and seminarians with an average age of 37. The FSSP is of pontifical right and as such depends directly on the Holy See. So far 110 diocesan bishops on four continents have granted permission to the FSSP to serve in their dioceses (with full respect of its definitively approved Constitutions). In Great Britain, the FSSP is based in Edinburgh, Reading (where Bishop Crispian Hollis allowed their canonical establishment) and Warrington. They admit men from around the world into their international seminaries, including some from Britain.