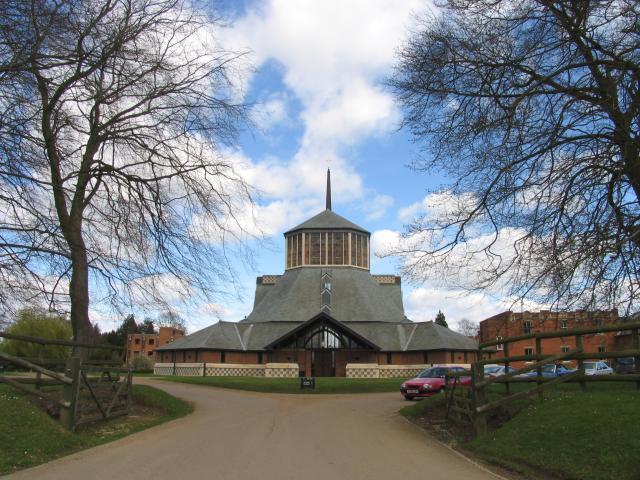 Douai Abbey, picture by Pam Brophy, CC BY-SA 2.0, Link
The dates are 4th-6th February.  For more information please contact Lucy Shaw on lucyashaw@gmail.com .
A leaflet with this information can also be downloaded here
About the Retreat
The mission of the Guild of St Clare is to assist priests who celebrate the Traditional Mass by repairing vestments and undertaking commissions for vestments and liturgical furnishings. The sewing retreat is an opportunity to form a community of people around the Traditional Mass who are keen to help in this work, while enjoying the benefits and graces of the devotions and spiritual conferences from our chaplain.  The schedule is a fairly relaxed one, to allow plenty of time for sewing and discussion, and the weekend works best when all retreatants attend as many as possible of the sewing sessions, talks and most importantly, the Mass.
---
What kind of sewing we do
The greater part of our work consists of repairs to vestments: stitching trim back into place, for example, or patching holes in worn-out silks. We also occasionally make vestments from scratch to commission, sometimes first creating our own patterns when needed. The work ranges from very easy sewing indeed to an intermediate standard. No one need be put off owing to lack of experience! We also offer an optional embroidery kit for people who would like an extra challenge or a little more variety: if you would like one of these, you will need to tick the box on the registration form. There is a small extra charge.
---
About the liturgy
Our chaplain celebrates Mass each day, and we also have daily Rosary. In addition to this we have Compline each evening, and Benediction on Saturday. 
---
Our chaplain
Fr Stephen Morrison OPraem
---
Under 16s
Children are permitted to stay at Douai on condition that they remain with their parents at all times.
---
The Venue
Douai Abbey is a monastery of monks of the English Benedictine Congregation. Under the patronage of Saint Edmund, King and Martyr, they were founded in Paris in 1615 and settled in Woolhampton in 1903. We do not have exclusive use of the Douai Retreat Centre, but as our Retreat revolves around the Traditional Liturgy we will have the run of the local parish church, a stone's throw away. All rooms are ensuite and many are suitable for people with limited mobility. The address is Douai Abbey, Upper Woolhampton, Reading, Berkshire, RG7 5TQ. The phone number for the Guestmaster, Fr Finbar, is 0118 9715399.
---
Fees and discounts
Single room occupancy is £215, and those sharing a room pay £183 each. There is a 30% discount for children and students.
---
Late cancellations
Full refunds are possible for cancellations up to a month before the start of the retreat. After that we regret there can be no reimbursement of fees. Since these retreats tend to be oversubscribed we are concerned to make places available to those who will get the most out of them. We ask those considering booking, therefore, not to do so if they will have to arrive late or leave early, and to regard the booking as a firm commitment not to cancel less than a month before the event. While we understand that plans can be disrupted by unforeseen circumstances, we would like to keep unfilled places to a minimum, and to minimise the disruption of people arriving and leaving during the Retreat.
---
What you will need
Hand missal and mantilla, if you have them 
Basic sewing kit 
A number of sewing items will be available for purchase during the Retreat. 
When
4th February 2022 15:00 through 6th February 2022 00:00
Location
Upper Woolhampton




Reading

,

RG7 5TQ




United Kingdom
Event Fee(s)
| | |
| --- | --- |
| Event Fee(s) | |
| Single room | £ 215.00 |
| Shared twin room | £ 183.00 |
| Single room (under 16's and students) - 30% discount | £ 150.50 |
| Shared twin room (under 16's and students) - 30% discount | £ 128.10 |