Annual Pilgrimage to Chartres Friday 18th – Tuesday 22nd May 2018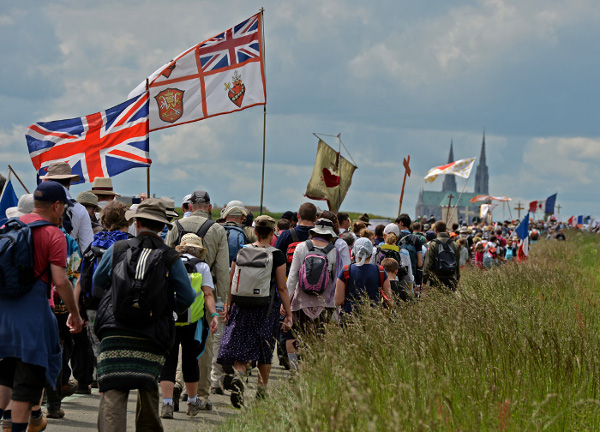 This year marks the 36th Chartres Pilgrimage – a walk of 70 miles in three days from Notre Dame Cathedral, Paris, to Notre Dame Cathedral, Chartres – with the theme: "St Joseph, Pilgirm and Servant".
The British contingent of the Pilgrimage gather on Friday 18th May for Mass in Westminster Cathedral crypt at 7.00am and then board a coach for Calais at 7.30am. Each day throughout the Pilgrimage the Holy Sacrifice of the Mass will be offered and the Holy Rosary will be prayed. Confession and spiritual guidance will both be available throughout each day.
On Tuesday 22nd May, there will be Mass in the crypt of Chartres Cathedral, before the coach takes pilgrims back to England via the Eurotunnel, arriving at Westminster Cathedral at about 8.00pm.
The Latin Mass Society is subsidising the cost of the pilgrimage for five young people from England or Wales (must be ages 18 to 35). The normal price per person is £275, but the LMS is reducing that to £175 per person for each of the five sponsored places. For those who prefer a single hotel room, as opposed to sharing with a person of the same sex, there is a single-occupancy supplement of £60 - payable by the pilgrim.
If you are not a young adult (18-35), but would like to attend the Chartres Pilgrimage, or if you would like to book with the organisers direct, please visit and book via the Chartres Pilgrimage UK website.
The closing date for applications, and for final payment to be received, is SUNDAY, 25 MARCH.
To apply for a LMS bursary, download and complete the Registration Form (PDF) (Word). Send this, with your deposit (or payment in full) to the Latin Mass Society, 11-13 Macklin Street, London WC2B 5NH. Also, please download the following documents, which give further details about the pilgrimage:
Preliminary Information (PDF) (Word)
Covering Letter (PDF) (Word)
The Preliminary Information and Covering Letter documents (above) should answer any questions you might have about the pilgrimage, if not, please contact the LMS office on 020 7404 7284 or email info@lms.org.uk
18th May 2018 07:00 through 22nd May 2018 20:00