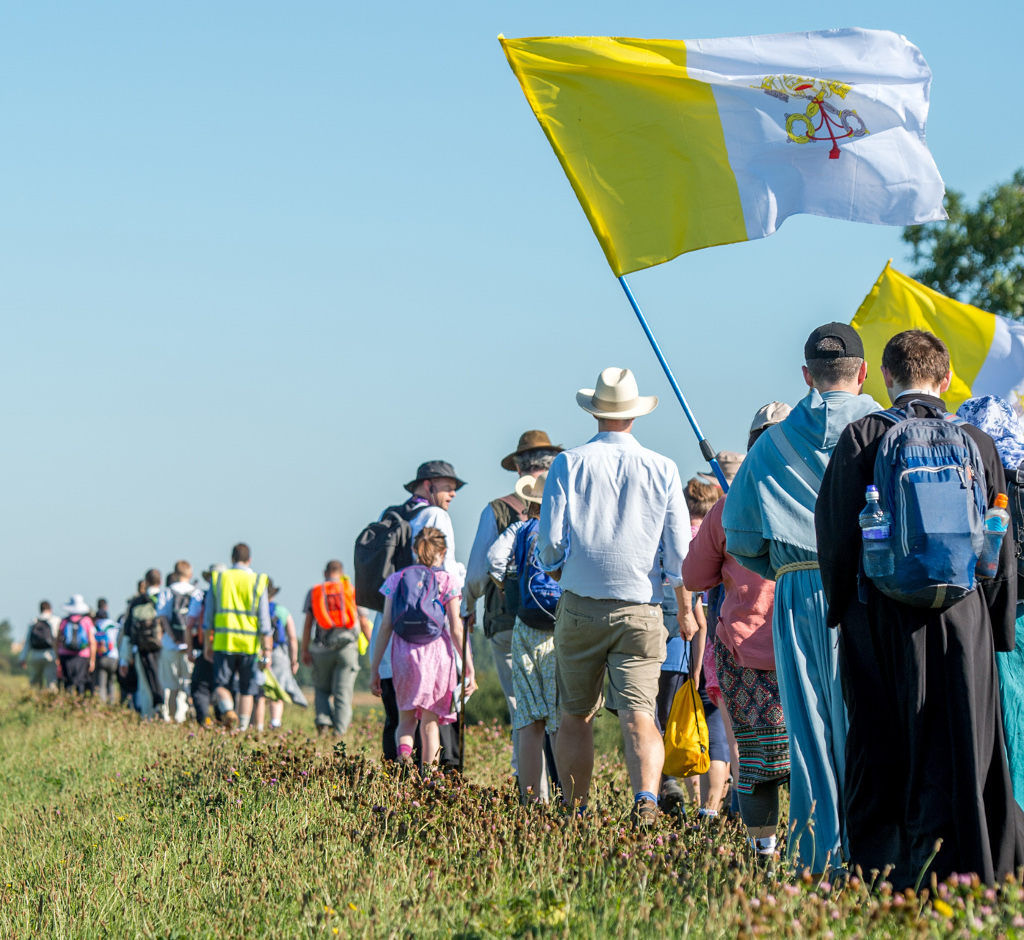 In a pilgrimage inspired by our Medieval predecessors, the Chartres Pilgrimage, and similar events around the world today, we walk 59 miles from Ely to Walsingham with the Traditional Mass, the Rosary, traditional devotions, chants, hymns and songs, to do honour to Our Lady of Walsingham and to pray for the conversion of England.
The pilgrimage starts with registration in Ely on the evening of Thursday 23rd August; and concludes with devotions in Walsingham on Sunday 26th August. There is an additional Mass for those staying Sunday night in the Slipper Chapel on Monday 27th August. This is the weekend of the August Bank Holiday.

Don't miss your chance to take part in this unique event, by walking it, volunteering in it, or sponsoring the pilgrims.

• Accompanied by priests, seminarians and religious.
• High Mass (with deacon and subdeacon) on Friday, Saturday, and Sunday.
• Sung Mass in the Medieval Slipper Chapel on Monday.
• Specially created, re-usable Pilgrim's Handbook with Mass texts, prayers, devotions, chants, and hymns for the road.
• Proper evening meals created by our dedicated cooking team.
• Support vehicles accompanying the Pilgrimage to carry heavy baggage and collect tired pilgrims.
• Lifts, minibus or coach to and from Ely, Walsingham and London at the beginning and end of the Pilgrimage.
For full details, see the Pilgrimage Information Booklet
To volunteer as a driver or cook, email the Office by the end of June: info@lms.org.uk
To sponsor the pilgrims, click here
Day Pilgrimage
If you are unable to undertake the Walking Pilgrimage for whatever reason, then you are welcome to join a day pilgrimage by coach from London on the Sunday; details will follow shortly.
If you are not a member of the LMS, sign up today to save money on the pilgrimage and other events through the year, and support the work of the LMS.
23rd August 2018 16:00 through 26th August 2018 15:00
Houghton St Giles




Little Walsingham

,

NR22 6AL




United Kingdom
Base Price with early bird discount (ends 1st April)
Adult LMS members (£80)
Adult non-LMS members (£112)
Under-18s (£45)
LMS member students (£49)
Non-member students (£67)
Getting to Ely on Thursday. Do you need...?
A place on the minibus from London (£5)
A place on the minibus from Walsingham (no charge)
I'll make my own way to Ely
I'll make my own way to Ely, but won't make it before 7pm
Getting home from Walsingham. Do you need...?
Sunday: a place on the coach to London (£15)
Sunday: a lift back to Ely (no charge)
Monday: a lift back to Ely (no charge)
Monday: a place on the minibus to London (£5)
No thanks - I'll make my own way back
Pilgrim's Handbook
I will collect a standard copy at Registration in Ely (no extra charge)
I would like a deluxe version: laminated to protect it from the rain, with a reading ribbon, to collect at Registration in Ely (£10)