Patrons of the Latin Mass Society
Since 2012 the Latin Mass Society has been supported by a number of distinguished lay Patrons, who have kindly agreed to be associated with the Society, and in many cases are actively involved in our work.
---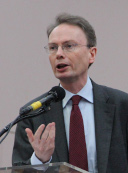 Professor Thomas Pink
Professor Pink is a Philosopher based at King's College London. He converted to Catholicism as a young man and has recently made important contributions to debates on religious freedom and the relationship between Church and State, as well as being a rare scholar of late Scholastism. He is often to be seen at Society events in London and has contributed to a Conference organised by the LMS and the Iota Unum series of talks. The first of these talks can be heard on Podbean here.
More about his academic work can be seen on his page on King's College website here. He described his faith journey in an article in the Catholic Herald here.
---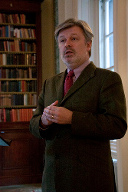 Sir James MacMillan CBE
Sir James is a composer who has made a considerable contribution to liturgical and religious music. His works include the setting for the Beatification Mass of John Henry Newman celebrated by Pope Benedict XVI in 2010. He is well known for his tireless campaigning for excellence in Church music, insisting on the importance of Gregorian Chant. He is today the best known and most distinguished Catholic musician in the UK. He has spoken to a meeting of the Gregorian Chant Network, which is affiliated to the Latin Mass Society. He was given a CBE and (Commander of the Order of the British Empire) in 2004, and made a Knight Bachelor in 2015.
See his Wikipedia page here.
---

Charles Moore, Lord Moore of Etchingham
Lord Moore is a former editor of The Daily Telegraph, The Spectator and The Sunday Telegraph, and the authorised biographer of Lady Thatcher. He is the most senior and distinguished defender of the Church's teachings in British journalism today.
He converted to Catholicism in 1992. He was ennobled in 2020.
See his Wikipedia page here.
---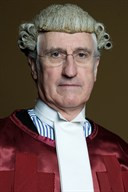 Brian, Lord Gill KSG
Lord Gill is a former Lord President of the Court of Session, Scotland's most senior judge. He retired from this role in 2015, and sits on the UK's Supreme Court's Supplementary Panel of Judges.
He was made a Knight of the Order of St Gregory (KSG), a papal knighthood, in 2012. He is a longstanding supporter the Traditional Latin Mass. He currently lives in London and is often to be seen at the Society's London events.
---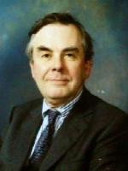 Sir Adrian FitzGerald
Sir Adrian is the Green Knight of Kerry. He has been a President of the Irish Association of the Knights of Malta, a mayor of the Royal Borough of Kensington and Chelsea, and a Chairman of the Governors of the Cardinal Vaughan Memorial School.
He divides his time between London and Waterford, Ireland.
---
Deceased Patrons
Prince Rupert Löwenstein (or Loewenstein), 1933-2014
Prince Rupert was a descendent of the Royal House of Bavaria, and for many years the President of the Latin Mass Society. He became its first Patron in 2012.
He is most famous as banker to the Rolling Stones, but was also a generous philanthropist, a President of the British Association of the Knights of Malta, and the father of two priests: one a Dominican, the other a member of the Fraternity of St Peter.
See his Wikipedia page here. He wrote an autobiography, A Prince Among Stones.
---
Colin Mawby KSG, 1936-2019
Colin Mawby was Master of Music at Westminster Cathedral from 1961 to 1975, an important composer of choral music, including much liturgical music, a strong defender of the Church's musical traditions and a promoter of Gregorian Chant.
He took part as organist and tutor in several Chant Training Weekends organised by the Gregorian Chant Network, which is affiliated to the LMS.
It was typical of his generosity with his time that he volunteered to compose a setting for the Song of the English Zouaves which we wished to sing on the LMS Walking Pilgrimage to Walsingham. The song and its setting is found in the LMS publication Vademecum Peregrini: A Pilgrim's Handbook.
He was made a Knight of the Order of St Gregory, a Papal Knighthood, in 2006.
See his obituary in the Church Times.
---
Patron Saints of the Society
In 2008 the Latin Mass Society decided to adopt two Patron Saints, a Welsh lay man and and English lay woman, who laid down their lives for their work of passing on the Faith and protecting priests.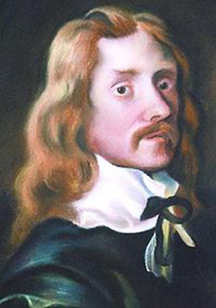 St Richard Gwyn (or White) c1537-1584
St Richard Gwyn was born in Llanilloes, Montgomeryshire, Wales. He studied at Oxford and then at St John's College, Cambridge, but his studies were interrupted in 1558 when Elizabeth I ascended the throne: it became impossible to receive a degree without making an act of submission to the Anglican Church. He returned to Wales and became a teacher. He married and had six children.
He was leant on to become an Anglican and succumbed briefly to the pressure, but returned to the faith after a sudden illness and remained steadfast in it thereafter. He frequently had to change his home and place of work to avoid fines and imprisonment, but he was finally arrested in 1579, and after escaping and spending a year and a half on the run, he spent the rest of his life in prison.
He was fined astronomical sums for not attending Anglican services, and was carried to church in irons more than once; but he would show his lack of consent by rattling his chains and heckling the preacher.
The problem for the legal system was that Richard Gwyn was quite obviously an active Catholic, but could not easily be found guilty of a capital offence. Eventually, in 1583 enough evidence was invented to sustain a charge of high treason, on the basis that he rejected the Queen's Supremacy, reconciled individuals to the Catholic Church, and plotted to overthrow the Government. He was hanged, drawn and quartered at Wrexham on 15 th October 1584.
St Richard Gwyn was beatified by Pope Pius XI in 1929 and canonised by Pope Paul VI in 1970, as one of the Forty Martyrs of England and Wales. In the Extraordinary Form he has a feast day in the Welsh Dioceses of Menevia and Wrexham on 17 th October, which is also his feast in the reformed calendar. The Collect proper to his feast in the Extraordinary Form is as follows:
O God, who didst raise up Blessed Richard thy martyr to be an instructor of youths and a champion of the Faith: grant we beseech thee that we be so strengthened in that same Faith by his example, that we may happily prevail to come to thee. Through our Lord.
His shrine is maintained at St Mary's Cathedral, Wrexham, where the LMS organises an annual pilgrimage on the Saturday closest to 17 th October.
---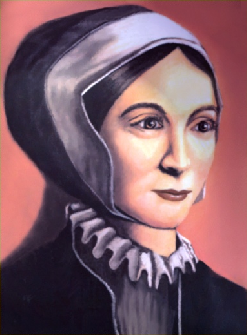 St Margaret Clitherow, 1556-1586
St Margaret, the 'Pearl of York', converted to Catholicism in 1574. Her husband, John Clitherow, whom she had married in 1571, was a sheep farmer and butcher, who owned a shop on the Shambles (the name referring to the slaughter of animals) in York. He was a widower with two children, William and Thomas. Margaret went on to bear him two others, Henry and Anne.
John Clitherow was a Special Constable and was duty bound, under the Sheriffs in York, to find and arrest Catholics. Despite not following her formally into the Church, he allowed Margaret not only to attend Mass in secret, but to establish a refuge for priests and a chapel in the top floor of their home. Margaret refused to attend the services of the Church of England and was arrested on many occasions. Each time, John would pay the fine for her release.
It was not unusual in Penal Times for a husband to conform to the Church of England while tolerating, or even encouraging, his wife in the maintenance of the Catholic Faith. Such an arrangement gave some measure of protection to family members and property.
Margaret found prison life hard and the food, such as it was, made her ill. However, she was able to meet and talk to other Catholics and they would pray together. It was during her time in prison that she learnt to read and write, which enabled her to read prayer books and literature on the lives of the saints.
Harbouring a Catholic priest was at that time a felony punishable by death. Eventually, the shop was raided by the Sheriff and Margaret, together with her children, were arrested and taken to prison. Out of fear, her son made known the secret room, where the Sheriff found priestly vestments and other liturgical items, sufficient evidence to convict Margaret.
Margaret was brought to trial, but probably fearing that her children would be forced to testify against her, she refused to plead. The penalty for this was itself death, though it was seldom carried out, let alone in the barbaric form set out in law, which St Margaret was to suffer.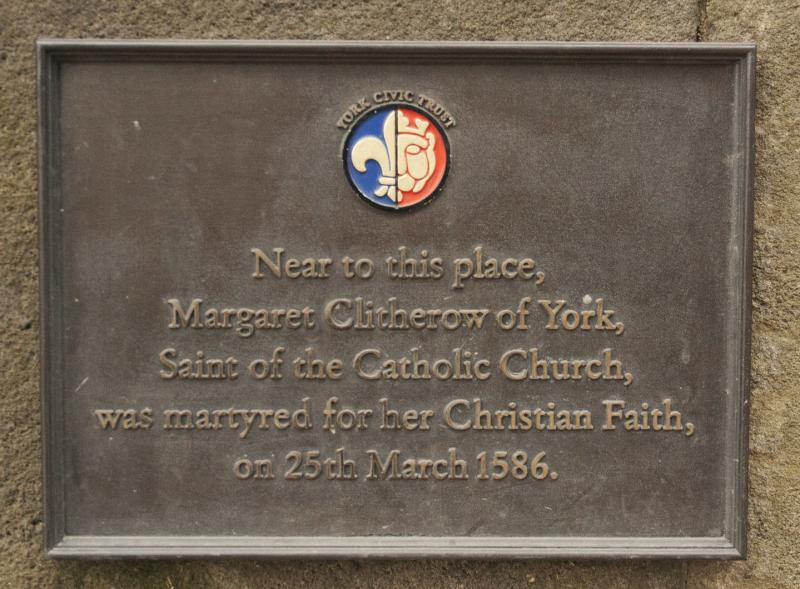 Whilst awaiting execution, she sent her hat to her husband, a symbol of her respect for his authority, and her shoes to her daughter Anne, to encourage her to follow in her mother's footsteps.
On 25th March 1586, at 8am, Margaret was taken to the toll booth on the bridge which spans the River Ouse, where she changed into a simple dress and knelt down and prayed. She was made to lie on the ground and a sharp stone was placed under her back. A heavy wooden door was placed on top of her and, slowly, the Sheriff ordered weights and stones to be placed on top of the door, to crush her. After fifteen minutes, Margaret died.
That year 25th March, the feast of the Annunciation, coincided with Good Friday.
Margaret Clitherow was beatified by Pope Pius XI in 1929 and canonized on 25 th October 1970, as one of the Forty Martyrs of England and Wales. A relic, her incorrupt hand, is held at the Bar Convent in York.
The Latin Mass Society, in collaboration with the York Oratory, organises an annual pilgrimage, with a procession to the site of martyrdom, every year. The site is today marked by a metal plaque in the parapet of the bridge.