No ministry, except that of those who by ordination are set apart for the service of the Altar, deserves greater thought and consideration than the duty entrusted to those laymen and youths who have the office of assisting the priests of God in the discharge of their sacred functions.
Francis Cardinal Bourne, 1907
Organiser: Joseph Shaw (contact tarcisius@lms.org.uk )
Chaplain: Fr Seth Phipps FSSP

What's it all about?
The Latin Mass Society's sodality or guild for altar servers is being relaunched with new statutes and a newly-designed medal for members to wear. Like the Confraternity of St Stephen, it has different grades corresponding to the members' expertise.
The Society of St Tarcisius (SST) has three objects:
1. To promote the dignified, devout, and accurate service of the altar in the traditional Roman rites.
2. To promote the spiritual formation of altar servers, in the spirit of St Tarcisius, who accepted death rather than allow the profanation of the Most Holy Sacrament.
3. To establish standards for the correct pronunciation of liturgical Latin and service at the altar and to arrange for training and development of members to meet these standards.
The SST uses the detailed 'Ceremonial Notes' for servers drawn up by Louis Tofari of Romanitas Press, which can be found here
The SST maintains a list of members with their levels of expertise, and organises Masses for its membership.
Those joining are presented with a metal medal on a silk cord with the SST's emblem, which can be worn (with permission of the celebrant) while serving the liturgy.
See the Society of Tarcisius Guide for Members (
pdf
)
There is no joining fee.
---
Events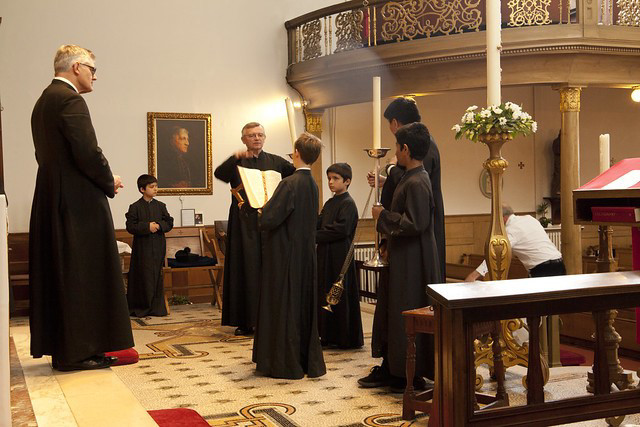 In the first half of 2019 there will be three Server Training Days in Our Lady of the Assumption, Warwick Street, where servers will be able to learn all roles for Low Mass and Sung Mass, and High Mass if there is demand. There will also be a chance for those attending to be enrolled in the Society of St Tarcisius and be promoted from grade to grade.
Membership of the Society of St Tarcisius is not required to take part in these training events.
Our Lady of the Assumption, Warwick Street, has four altars where the ceremonies of Mass can be rehearsed. Traditional Low Mass is celebrated on Saturdays at 12 noon by the Parish Priest, Fr Mark Elliot Smith. There will be at least two and usually more experienced Masters of Ceremonies to instruct servers wishing to learn.
Servers of all ages are welcome. Those under 16 must be accompanied by a parent or guardian, or an adult deputed by them and known to the server.
Booking is required, so the organisers have an accurate idea of numbers attending and what they wish to learn; there is no fee. To book, email tarcisius@lms.org.uk
---
Venues
St Mary Moorfields, 4-5 Eldon St, London EC2M 7LS, between Moorgate and Liverpool Street Tube Stations (click for a map).
Our Lady of the Assumption, 10 Warwick St, Soho, London W1B 5LZ, near Piccadilly Tube Station (click for a map)
---
Dates
Training days start at 10:30 am.
February: Saturday 16th at St Mary Moorfields
March: Saturday 9th at Our Lady of the Assumption
May: Saturday 11th at Our Lady of the Assumption
September: Saturday 14th at St Mary Moorfields
November: Saturday 30th at St Mary Moorfields