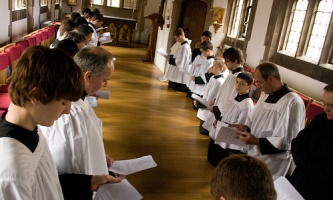 As well as training priests, it is necessary to train men and boys to serve the Mass. The service of the altar is indispensible to the worthy celebration of the liturgy, and has always been a rich source of vocations to the priesthood. While training to serve Low Mass can best be done 'on the job' alongside a more experienced server, study and practice are needed for the more demanding roles in Sung and Solemn Mass.
To facilitate this, and a general high standard of altar service, the Latin Mass Society established The Society of St Tarcisius (SST), a sodality for those serving the Traditional Mass, in May 2010. The SST runs server training sessions and special events for its members. Membership is free and open to anyone who can serve Low Mass; associate membership is available to those hoping to learn to serve Low Mass.
St Tarcisius, the Society's patron, was a Roman martyr who gave up his life rather than allow the profanation of the Blessed Sacrament. He is the patron saint of altar servers.