Submitted by

Stephen Moseling

on Wed, 10/05/2017 - 15:30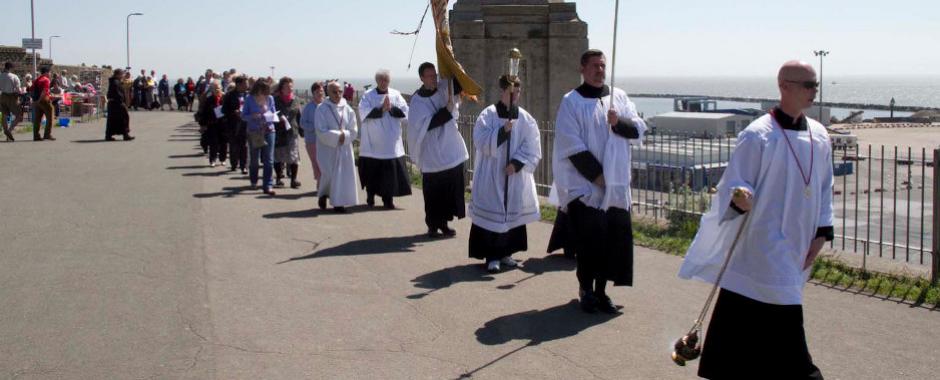 The annual St Augustine Week festival in the Shrine of St Augustine, Ramsgate takes place from Friday 26th May to Sunday 4th June 2017.
Bringing together people from far and wide, this festival celebrates the richness of culture, history, and religion in England, stemming from the arrival of Augustine of England on Ramsgate's shores in AD 597.
The Week takes as its inspiration the historical figure of St Augustine of Canterbury and celebrates the many aspects of life surrounding him. With activities from music, to reading, to literature, to art, and more, there is fun for all the family.
This year marks the re-opening of St Augustine's following a million-pound Heritage Lottery Fund project. This project has created a brand new Visitor Centre in Pugin's original buildings, and has restored the Chancel and Lady Chapel in the church. The new facilities and restored church are open all week for you to visit and enjoy.
The celebrations begin with High Mass in the Extraordinary Form in the presence of Cardinal George Pell on Friday 26th May at 7pm. Music, sung by The Victoria Consort, is sponsored by the LMS.
The Mass on Sunday 28th at 12 noon will be that of the External Solemnity of the Ascension of The Lord, celebrated in the EF by Fr Marcus Holden, Rector of the Shrine.
On Saturday, 3rd June, His Grace, Archbishop Peter Smith, Archbishop of Southwark, and Bishop Paul Mason, arear bishop for Kent, will celebrate the official grand re-opening of St Augustine's at 5pm. This will be followed by Vespers in the Traditional Form.
The celebrations conclude on Sunday 4th June. Sung Mass in the Extraordinary Form for Whit Sunday is at 12 noon. The annual walk from the shoreline to St Augustine's Cross begins at 3pm. At the Cross, Fr Paul Coleman O.F.M.Cap., Provincial of the Capuchin Franciscans will deliver the Augustine Sermon.
The full programme can be downloaded here. For more information on the Shrine, see the Shrine website.