Submitted by

Stephen Moseling

on Tue, 15/05/2018 - 13:01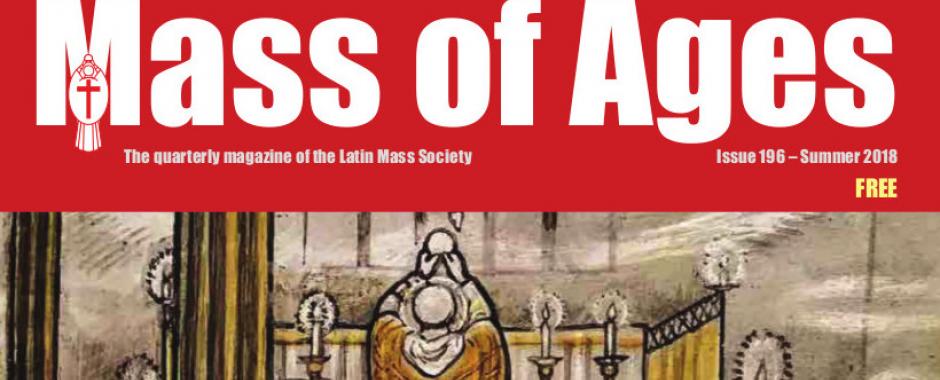 The summer 2018 edition of Mass of Ages is now available. Members should have received their copy last week and copies.

• Paul Waddington reports from a very successful Priest, Deacon and Server Training Conference • Cardiff University Chaplain, Fr Sebastian Jones, writes about the pre-Reformation chapel of St Teilo in Fagan's National Museum of History • Lucy Shaw reports on the second Guild of St Clare Sewing Retreat • Tyburn Convent Relic Chapel – Joseph Shaw writes about the Sung Mass celebrated there as part of the CMA's recent conference • Looking ahead to the LMS Latin Course in Boars Hill, Oxford

Also in this edition:
'Making Music', LMS Chairman, Joseph Shaw writes on the importance of training.
'Evangelisation through Beauty', Michael Carroll on the Great Commission for Traditional Catholics.
Joseph Shaw reviews the latest book by Peter Kwasniewski, Noble Beauty, Transcendent Holiness, available from the LMS online shop.
Our regular columnists:
• Alberto Carosa reports on Cardinal Burke's recent lectio magistralis
• In her Art and Devotion series, Caroline Shaw looks at The Conversion of St Paul on the Road to Damascus by Caravaggio
• Mary O'Regan on Our Lady of Šiluva
• Paul Waddington looks at some of the churches designed by a most prolific Catholic Architect, George Goldie
• Fr Bede Row asks, "Do we still believe in Parishes (again)?"
• Tom Quinn, Editor of Mass of Ages, reports on recent events in Ealing, west London
• The Lone Veiler on 'Why marriage starts with God'

An online copy of the magazine can be read HERE.

On 25th May, a new Data Protection law comes into force which will affect the way the LMS interacts with its members. Under this law, known as the General Data Protection Regulation (GDPR), if we do not have your explicit permission to contact you by email, post or by telephone (but preferably all three), you will not receive ANY communication from us about anything, INCLUDING NOT RECEIVING YOUR COPY OF MASS OF AGES OR NOTIFICATION OF MEMBERSHIP RENEWAL.

Members for whom we have an email address should have recevied an email from us asking them to supply us with their preferred means on communications. Those who did not respond to this emailing, together with those for whom we do have an email address, should have received notification of this with their magazine. It is VITAL that members respond, if you have not already done so, please do so today. If you have any questions relating to this, please contact the Office on 020 7404 7284 or email us.