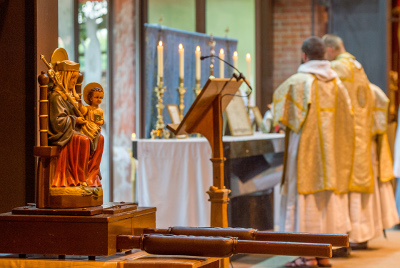 The LMS walking pilgrimage to Walsingham takes place during the August Bank Holiday weekend. The pilgrimage starts with registration in Ely on the evening of Thursday 24th August; and concludes with devotions in Walsingham on Sunday 27th August. For people unable to undertake the walk but who would like to make a day pilgrimage on the Sunday - 27th August - a coach will leave central London that morning and return in the evening.

Day pilgrims will arrive at the Basilica Shrine in time to greet the walking pilgrims. High Mass will be celebrated in the Chapel of Reconciliation at 2pm. This will be followed by a procession along the Holy Mile from the Slipper Chapel to the ruins of the Abbey in the centre of Walsingham itself.
Seats on the coach, WHICH MUST BE BOOKED IN ADVANCE, will be allocated on a first-come-first-served basis.
The cost of the round trip is £25 per head. If you would like to book a one-way journey, the cost is £15 per head.
To reserve a seat on the coach, please complete the following form - one entry for each person travelling - and submit payment via the PayPal button at the bottom.
The coach will depart from Ambrosden Avenue (at the side of Westminster Cathedral) at 9.15am sharp. For the return journey, the coach departs Walsingham at 5.15pm, arriving in London at approximately 8.30pm.

BOOKINGS FOR THE COACH ARE NOW CLOSED.