Latin course for adults 24th to 29th July 2017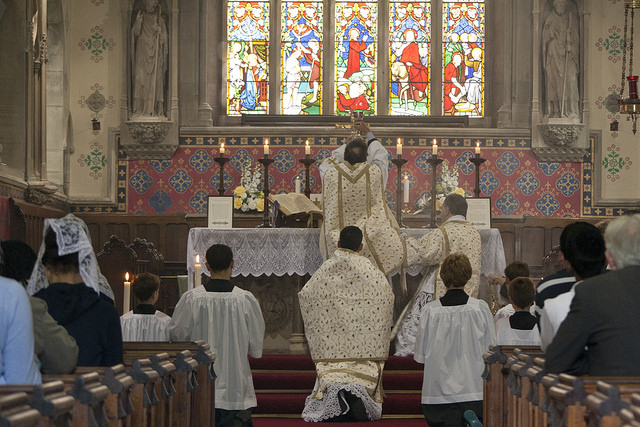 This will be the 7th Residential Latin Course organised by the LMS.
ARRIVAL, DEPARTURE AND DIRECTIONS
Registration is from 11.30am to 12.30pm on Monday, 24th July at:
St Winefride's Guest House,
20 New Road,
Holywell,
Flintshire CH8 7LS
(Click for a map)

The Guest House is run by the Bridgettine Sisters. Registration is followed by lunch for all at the Guest House.

Classes take place a 5-minute drive from Holywell:
The Franciscan Retreat Centre,
Monastery Road,
Pantasaph,
Holywell,
Flintshire CH8 8PE
(Click for a map)

The course ends at lunch time on Saturday, 29th July (lunch is at 12.30pm).
Holywell and Pantasaph are about half an hour by car from Chester, and close to the Wirral. The closest railway station is Flint: if coming by train, let the organisers know in advance and we will arrange a lift to Holywell.

Tel: 07913 481014
e-mail: info@stcatherinestrust.org
THE COURSE
The course is intensive, over six days. The Latinists will be able to attend the daily High or Sung Mass, and sung Compline, with the St Catherine's Trust Summer School, which will be running alongside the Latin course in another part of the Retreat Centre.
The Latin Mass Society's Latin coursebook, Simplicissimus, is used as an aid in the course, and all participants are given a copy. This year we will be using a thoroughly revised and corrected edition.
BOOKING INFORMATION - THE CLOSING DATE FOR BOOKING IS FRIDAY, 30th JUNE
Discounts are available for paid-up LMS Members, full-time students, seminarians and priests (scroll down to book online). If you are not already an LMS member, you can join now and claim the appropriate discount off the price. The saving on the Latin course fee is greater than the annual membership fee for the LMS!
We also offer an option without accommodation, if you would like to arrange your own. There are a good number of B&Bs in the area, though it is a busy season and you should book early.
Single and shared rooms in the Gueat House: single rooms are available, subject to a single room supplement. However, single rooms are fairly scarce and we are encouraging people, where possible, to share a twin room to help us fit everyone in! If booking a single room, please indicate whether, if required, you would be prepared to share instead. If you end up sharing, you will be refunded any single room supplement you've paid.
PRICES AND ONLINE BOOKING
Full price is £340 (+ £80 optional single room supplement); without accommodation £225.
LMS Member £306 (+ £72 optional single room supplement); without accommodation £202.50.
Students, Seminarians and Clergy £170 (+ £40 optional single room supplement); without accommodation £112.50
Combined Latin Course and Membership Package £333 (+ £72 optional single room supplement); without accommodation £229.50
TO REGISTER FOR THE COURSE PLEASE COMPLETE THE FORM BELOW AND SUBMIT PAYMENT
24th July 2017 11:30 through 29th July 2017 14:00
Monastery Road




Pantasaph




Holywell

,

CH8 8PE




United Kingdom